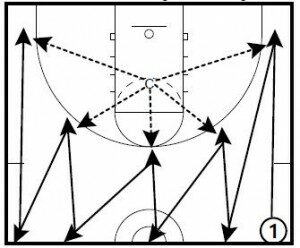 Some shooting drills with some conditioning that hopefully you might be able to use in your pre-season program if you are allowed to work with players, or to file and use in your early season practices.
These drills are from Coach Justin Remington's Moreno Valley High School Out of season (aka improvement season) Shooting Program.
He is also a basket instructor for PGC (Point Guard College)
His Twitter feed is @Coach_JRem
I posted some other shooting drills last month at this link: 3 Competitive Shooting Drills
Diagrams created with FastDraw
Transition 3s
PLAYER MUST MAKE TOTAL OF 10 SHOTS 2 FROM EACH OF THE 5 SPOTS AROUND THE PERIMETER:
Player starts half court
Player sprints to corner and receives pass from coach, if it is missed they must sprint
back to half court and back to the same spot again until it is made…
When shot is made they sprint to the half court line and move on to the next shot in the progression…
the wing shot, then TOK, then other wing, and then corner…
PLAYER MUST MAKE THE SHOT AT THE SPOT THEY ARE AT BEFORE MOVING ONTO THE NEXT SHOT
GO AROUND THE ARC AND MAKE YOUR WAY BACK TO END THE DRILL
Agility Shooting
Player starts at the top of the right elbow sprints diagonally to left block, turns and curls the corner and runs up to left elbow, curls and receives pass from coach for a shot,
then runs to the bottom right block and curls that cone and curls the top right elbow cone for another pass and
jumper…
Make 5
The possibilities here and patterns are endless, use your creativity to incorporate agility into shooting…
Opposite Rim Finishes
Player starts under the basket and sprints to the sideline, touches, and sprints back receives pass from the coach and finishes
(can be a regular finish or a reverse layup, or any style of layup finish you feel needs to be worked on)…
Player will go to the other sideline, touch, and come back t o the rim again for another pass from the coach.
Select a number of makes you want. Put a time and number of makes you would like to see to make it more competitive.