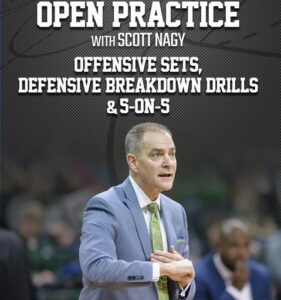 2 on 2 Interchange Defensive Drill with Scott Nagy,
Wright State University Head Coach;
2x Horizon League regular season champions (2019, 2020);
2018 Horizon League Tournament champions;
3x Horizon League Coach of the Year (2018, 2019, 2020);
former South Dakota State University Head Coach;
3x Summitt League Champions
Scott Nagy has taken the Horizon League by storm in the last several years. This inside-look into a Wright State practice will show you exactly why he has won Coach of the Year honors for the last three years in a row! You will gain insight into Wright State's offensive style of play in addition to how players are developed on both ends of the floor through breakdown drills
We are providing this drill to give you ideas on how to enhance your current practice drills. The idea is not to implement it exactly as is, but rather to tweak it to make it fit your system.
There is sound with the video, so please make sure that your sound is on.
This is a Vimeo video, so you will need to be on a network that does not block Vimeo videos.
For more information about Inside Basketball Practice with Coach Scott Nagy: Offensive Sets, Defensive Breakdown Drills & 5-on-5, click here: Inside Basketball Practice with Coach Scott Nagy