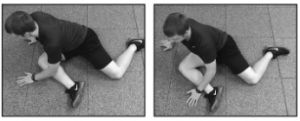 Do your basketball players stretch their hips enough?
By Jon Sanderson MS, CSCS, MSCC, USAW, NASM-CES, TPI, FMS
Head S&C Coach Michigan Basketball
The Hips are the center of the body and are incredibly important for basketball performance.  When the hips get locked up and tight, performance and durability have a way of diminishing.
To combat this, we recommend that every basketball player should go through a daily routine to ensure that this part of our body stays mobile.
Below are 3 hip mobility examples that would be great for pre or post practice.  If you are warming up before practice make these movements dynamic with short holds, 5 sec or less and more overall movement.  If you're done with practice for the day, these can be accomplished with 3 to 4 sets of 10-15 sec., still moving dynamically but with longer holds.
90-90 Hip Mobility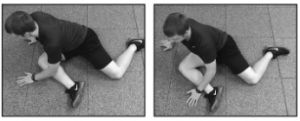 Sit on the floor with one knee bent under your body and the other bent behind you.
Lean forward and toward the leg under you until you feel a stretch in the outside of the hip.
Repeat on the Other leg.
Quad Hip Flexor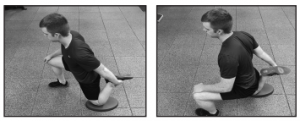 Kneel down on one knee with the other leg bent in front of you with your foot flat.
Grab the foot Of the kneeling leg and pull it to your butt, then push your hips forward until you feel a stretch in the front Of your hip.
Repeat On Other side.
Bretzel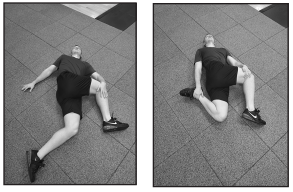 Begin by lying on your back and crossing your right leg over. Hold your knee with your left hand.
Use your left hand to grab your left ankle and pull up towards you.
Hold for desired amount of time and repeat on other side.

If interested in the Camp Sanderson S&C program powered by Blueprint Athletes App
Apple Phones   https://apple.co/2FYcJ00
Android Phones   https://play.google.com/store/apps/details?id=com.blueprintathletes.android