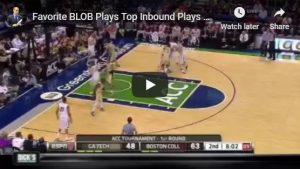 Maine Assistant Men's Basketball Coach Zak Boisvert has put together 16 short clips of inbounds plays to run from under the basket. Each play is shown at least twice. I hope you can find one or two that you can use for the end of the season and the post season.
Coach Boisvert has posted several videos of a variety of scenarios–man to man, zone, on ball screens and others. His YouTube channel is: Zak Boisvert You Tube Channel If you are interested in subscribing.
16 Under the Basket inbounds plays

He also is also very active on Twitter: @ZacBoisvert
The video is a YouTube video. Click the play arrow to see it.