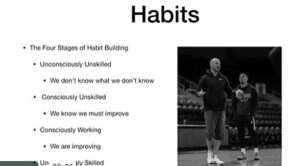 The following 2 minute and 30 second discussion on the 4 stages of habit building in skill development is presented by Cody Toppert.
He is an assistant coach at the University of Memphis. One of his responsibilities is player development.
In addition, Coach Toppert spent some time in the Phoenix Suns organization in both the G League and the NBA.
There is sound with this vimeo video.
You will need to click the play button to listen to the presentation.
There is no on court footage, this is an audio presentation with the power point slide shown.
You can find Coach Toppert's entire course on Skill Development at this link: Complete Player Development Masterclass – Turn Your Players Into Pro`s