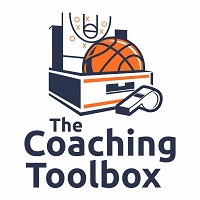 This article is from retired D1 Assistant Randy Brown.
Here are links to 2 other resources for playing against switching defenses. Both were written by D1 Assistant Coaches:
5 Strategies Against Switching Man to Man Defense
Practicing Against Switching Defenses
Diagrams created with FastDraw
Have switching defenses ever defeated you? The art of screening your own man to get a teammate open is rarely seen. But, it is a time tested strategy to counteract perimeter switching.
Take a look at this simple 3 on 3 drill that teaches the screener how to adjust the screening angle to actually screen his own man.
Starting Positions.
1 passes to 3 and screens for 2. Defense switches and X1now has 2 and X2 has 1.
The problem is that X1 and jump switch and deny the pass to 2, stalling the drill.
In the same starting positions, 1 will again pass to 3 and begin screening action towards 2 on the wing.
Just before 1 sets his down screen on X2, he stops and gets screening angle on his own man, X1.
2 cuts off 1's screen (on X1) and cuts to the open spot on top of the floor.
2's defender, X2, has no one to guard now. X1 and X2 are BOTH guarding 1.
This is a proven strategy against switch and junk defenses and is rarely defended properly by the defense