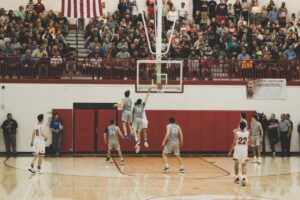 For college coaches, there's great value to glean from the prep setting.
The live evaluation periods for basketball recruiting recently underwent another transformation, with the NCAA making major changes to how the summer schedule is structured. In an effort to give high schools more validity in the recruiting process for student-athletes, July has been cut down from three sanctioned weekends of AAU observation to just one. The last two weekends of June are designated as "scholastic" weekends, where state high school associations are allowed to put on their own showcase events.
It's a move based on good intentions, but it remains to be seen how this will play out in the long run. There's no mandate for players to participate in any of these events, and college coaches will still lean into their AAU connections when suiting their desired talents. As long as the nation's top talents are congregating en masse at club tournaments, AAU will still play a vital role in the evaluation process. At the end of the day, there's no substitute for seeing your recruit consistently battle the best of the best.
But high school film of a prospect is still important. Sure, it's a different environment from the one played out in field houses during those hot summer months. But if anything, seeing performance from both high school and AAU paints the most complete picture. Here are the most important traits college coaches can extract from players during the cold winters.
Assuming the player being recruited is the best on their team, coaches can learn a lot about how the superstar manages their teammates. Great leadership isn't always about being the loudest and most demonstrative. It's one thing to see a player communicating vocally, but it's another thing to see them passing up a good shot of their own for a great shot by a teammate. That, too, is a form of leadership—albeit one we see less often—because it shows where they want their teammates to go.
It can be difficult for college coaches to get a true read on a prospect when watching them play in person. Some start pressing and looking out only for themselves when they see those polo shirts with college logos in the stands. It's a plus if you can see a player when they're not looking for the attention. As a college coach, you want athletes who are going to make winning plays—even when they aren't individual plays.
Some stars are going to be the tallest guy on their high school team no matter what, which can lead talented high school coaches to some creative game plans. That coach might need their 6-foot-5 guard to take a 6-foot-6 power forward down in the post. So what if that's out of position? That star may need to learn every position on the floor just for the team to squeak out wins.
Knowing how to play multiple positions widens one's chances of making an impact when they get to a college team and become just another spoke in the wheel. Defensively, coaches put such a premium on being able to make good switches—that experience defending both guards and bigs can make a big difference.
Most likely, the recruit is going to have the ball in their hands more during the high school season than they are during AAU. There's a sliding scale to consider with the former, of course—what level of competition is this star playing against? Not all 30 point-per-game averages are alike.
Some players will thrive in any environment, against any competition. When the scoring comes easy, there's other things you can look for in a prospect. How well does the player rebound? How active are they at both ends? How well do they run the floor?
Being the superior talent on a high school team means there's no hiding. The best will likely lead their team in minutes, and those will often be heavy minutes. Over a long period, comparing a player's first and second half stats can sometimes be revealing. That player might be logging big minutes for his college team, too—can they turn to him in the waning moments?
The crowds are almost always bigger for high school games—usually substantially so. From Damon Bailey drawing 50,000 to the Hoosier Dome, to LeBron James selling out Pauley Pavilion, and viral sensation Mac McClung bringing in enough fans to temporarily double the population of rural Appalachian towns, there's something about the atmosphere of high school basketball that intoxicates communities time and again.
For the biggest stars, those swelling crowds can provide infectious energy—or, if you're wearing the wrong colors, nervous hostility. How does a player hold up when the spotlight is shining brightest? Do they feed off the fans? Do they live for going into an opposing gym and silencing all that wrath? If they can't handle the big crowds now, just wait until they step inside suffocating college venues like The Phog, The Pit or Cameron Indoor.
Over his high school career a star player will likely see his fair share of unique defenses thrown his way, beyond your common man-to-man and zone schemes. They'll have to work through ball screens. They might get double-teamed, or even triple-teamed in rare instances. They may also see a box-and-one or a triangle-and-two. How they react to an opponent's scheme that specifically targets them can say a lot.
**
How does your top player perform under an undivided spotlight, with nothing to hide? Consider sharing highlight reels that show them taking care of both the little and big things during the high school season. You'll paint a more complete picture of why college coaches should be in touch.