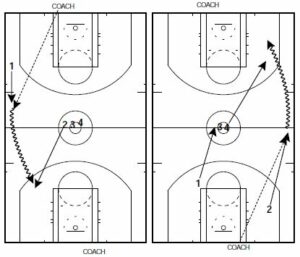 I like to have players play a lot of one on one and define using the dribble within a team concept to attack the basket and create scoring opportunities for all 5 players. I am always looking for ways to make it more productive, challenging, and game like.
I found these four versions of one on one on Zak Boisvert's site pickandpop.net.
Zak is an assistant men's coach at Maine and has been putting out useful You Tube videos and lots of good stuff on Twitter for a while.
The site has a lot of really useful content.
These are 4 of his favorite one on one drills.
Diagrams created with FastDraw
Iona 1 on 1
Coach throws ahead to 1
As 1 crosses half, 2 sprints out of the circle to defend him.
Whoever wins the possession (offense scores, is fouled or gets O rebound; defense gets a defensive rebound), keeps going the other way.
Louisville 1 on 1
Coach on each wing with a basketball.
Offensive player (1) can loop to catch at either slot.
2 trails him out and defends him on his catch.
1 has three dribbles, but has the ability to pass it back to either coach at any time.
Winner of possession (offense scores, gets an O rebound or is fouled; defense gets a stop), throws ball back to coach and sprints to one of the two spots as the next player up on the baseline sprints on to defend him.
Hostage 1 on 1
On coach's call, 1 and 2 sprint around the cone to play 1-on-1.
Paint One on One
On coach's call, 1 rounds the cone and attacks the rim and 2 slides/sprints t o touch his cone.
Winner of possession goes to O. Loser goes to back of line, new player steps on for D.