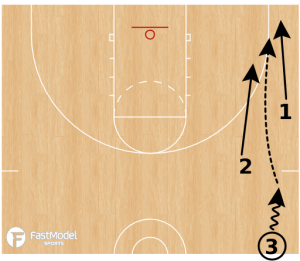 These two one on one drills were contributed by Jordan Peterson to the FastModel Sports Basketball Plays and Drills Library.
Jordan is the Founder and Director of Positionless Basketball. Varsity Assistant at Stillwater High School (MN). Former Graduate Assistant at MSU-Moorhead. Former college player at UW-Eau Claire.
You can also find out more about FastModel Play Diagramming software by clicking this link: FastDraw
This are Jordan's comments on the first drill:
Transition offense is a huge part of the game.
In this game like shooting drill, players will be working on scoring in transition.
A defensive player will be closing out on the offense in the corner.
The offensive player will have to read the defender to see if they should shoot it or drive it.
Transition 1v1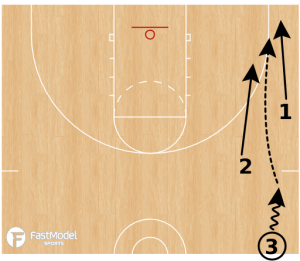 Shooter (1) starts at the three point line extended.
Defender (2) starts at the coaching box line.
Ball handler (3) or coach starts near half court.
Game starts on ball handlers movement.
Player 2 sprints to try to defend player 1 in the corner.
Player 3 passes to player 1, who tries to score off of a catch and shoot three, pull-up, lay up, side step. Can add that the offense can not score in the lane.
1v1 Contact Finishing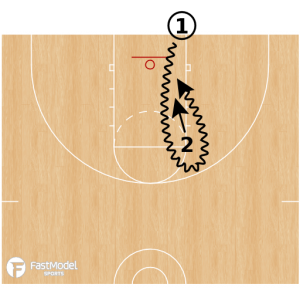 Defender stands at the elbow facing the basket.
Offense is on the baseline and dribbles out to the defender and goes around the defender.
Once the offense turns the corner it is live.
Offense is getting shoulder tip hip/chest and trying to cut off or veer defense to finish.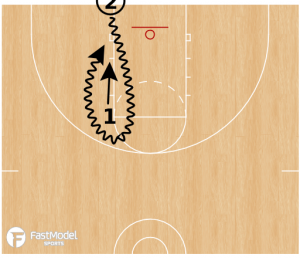 ADD ON: Dribble decision making/change of direction move can be added. Defender can lift up right or left arm to signal what way the offense must go around.
Players rotate offense to defense.
Run the drill on both sides of the floor.