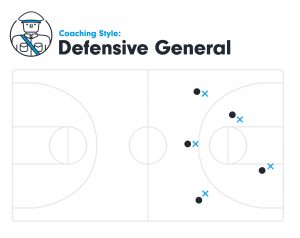 This post was written by my partners at Hudl.
Regardless of what coaching style you use, there are valuable stats to help you track performance. We have some suggestions on which numbers you need to keep an eye on.
One of the most important traits any coach must have is the ability to adapt. Thanks to graduations, transfers, and injuries, rosters look very different from year to year, and some can drastically change in season.
Coaches have to be able to roll with the punches and tweak their approach based on the talent on the current roster.
That being said, at their core, all coaches have a style, a philosophy that shapes almost every decision they make. Some coaches want to get up and down, sprinting up at all times and hunting fast breaks at every opportunity. Others prefer to slow it down and play at a more deliberate pace.
Regardless of what type of style you employ, there are stats that you should be monitoring to ensure your team is operating at its peak.
We, at Hudl, picked out a few coaching styles and listed some stats that, when linked with video, are great barometers for team success.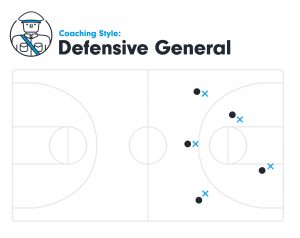 This coach doesn't care if the final score is 12-10 – he/she just wants to win. The team succeeds by suffocating the opposing offense, rebounding every miss and slowing things down on the other end.
ESSENTIAL STATS
Defensive rebounding percentage: Limiting opponent possessions is critical, and every offensive rebound allowed is just another chance to score. The more defensive rebounds you gobble up, the fewer opportunities for the offense.
Deflections: Steals are the flashier stat, but sometimes a deflection can be just as important. Getting a hand on the ball can screw up an offense's rhythm or force them into uncomfortable situations.

Opponent free throw factor: Trips to the foul line result in free points. By limiting fouls and trips to the line, you force the offense to score points in live action, not alone at the charity stripe.

Also consider: opponent points per possession, opponent second-chance points, charges taken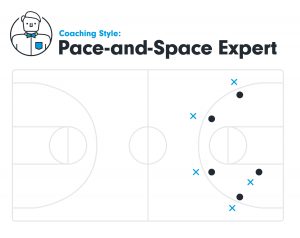 While Mike D'Antoni and the Houston Rockets took this philosophy to a new level this year, he wasn't the first coach to promote fast breaks and 3-pointers. This coach looks to push the ball at every opportunity and values shots at the rim and from behind the arc much more than those in the midrange.
ESSENTIAL STATS
Effective field goal percentage: Unlike traditional field goal percentage, which counts every shot the same, this stat gives added weight to 3-pointers, which makes sense considering they're worth more.

Transition points: This includes any points scored within eight seconds of a defensive rebound or opponent turnover. It's a great way to track if your team is running at the rate you want.

Turnover percentage: Playing fast is going to result in a few turnovers, but you've got to keep your squad's miscues in check. This stat goes beyond just your team's number of turnovers by adjusting for your increased pace.

Also consider: free throw factor, points in the paint, player

VPS

, points per possession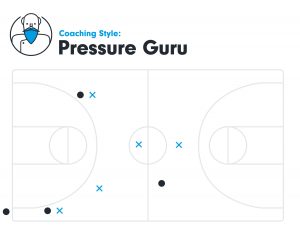 Nothing comes easy against this coach's team. Each made basket is quickly followed by all five players instantly jumping into a press designed to slow down the opposition's offense and hassle them into mistakes.
ESSENTIAL STATS
Opponent turnovers: Possibly the No. 1 goal of any press is to get the ball back. This stat tracks how many miscues your opponent coughed up.

Plus-minus: Checking out how your team performs with certain units on the floor can help you find which players are best-suited to run your press together.

Points off turnovers: Opponent mistakes can lead to easy offensive opportunities. This stat tracks all points scored on the possession immediately following an opponent turnover.

Also consider: opponent turnover percentage, field goal percentage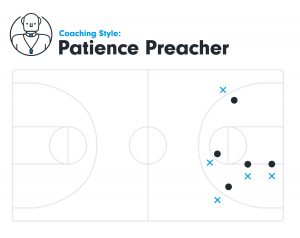 What's the rush? This coach is content to walk the ball up the floor and use the clock to his/her advantage. These teams aren't ever going to lead the league in scoring, but they keep the turnovers down, play solid defense and limit opposing transition points.
ESSENTIAL STATS
Opponent offensive rebound percentage: Nothing drives this coach battier than seeing the opponent get extra possessions on offensive boards. This number will keep you in touch with how strong of a rebounding club you have and help you identify good rebounders that might need to see the court more often.

Assist/turnover ratio: Smart, crisp passes and error-free play are the key to any slow-tempo offense.

Points per possession: These teams may not light up the scoreboard like their uptempo brethren, but this stat takes pace out of the equation to give a better overall view of offensive efficiency.

Also consider: effective field goal percentage, VPS, points in the paint, turnover percentage
There are other coaching styles out there, and it's certainly possible for a coach to employ traits from a few of the above strategies. Regardless of your system, there are stats that can help define performance or identify leaks. Each stat is linked to corresponding video, so finding the solution to your team's struggles is only a click away.
We make it easy and help you track your goals so you're always up to date on how your team is doing in certain areas. And if you don't have time to track the stats yourself, let our team of professional Assist analysts do it for you. Insights for any coach are just waiting to be found.