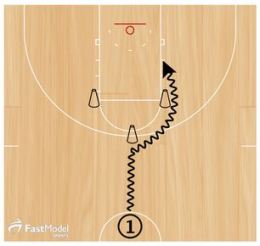 These basketball passing drills were posted in the FastModel Sports Basketball Plays and Drills Library The site has thousands of drills and plays that have been submitted by coaches from all levels and from all over the world.
The first two drills were contributed by Kyle Gilreath, Assistant Coach at Fort Meyers (Florida) High School.
The third drill was contributed by Daniel Murphy, Assistant Coach at Ledyard High School in Ledyard, CT.
You can always add a helping defender, or a coach or manager at the basket with an air dummy to work on finishing with contact if that fits your needs better.
Cone Finishing Drill
This is a drill from the Billy Donovan Skill Development blog article.
Player makes a combo move at the 1st cone and takes 1 dribble past the second cone to get to the rim.
(It is important the player only takes 1 dribble following their combo move..teach them to cover space with less dribbling). "Take off and extend"
Work on multiple finishes and chart them!
5 Spot Finishing Drill
At Fort Myers High School we run the Read and React Offense from Better Basketball. If you are not familiar with the offense it consists of five spots that should always be filled. If your defenders feet are above the three point line (Read Line) and you are one pass away we tell our players to immediately cut back door. With that in mind this morning I put a couple of our guys through a grueling session of finishing moves which incorporates this concept.
When finishing from the sides I like to teach my players to get their shoulders parallel with the baseline to product themselves and the ball from a defender.
5 Spots – 12 Makes at each spot
Player starts under rim and sprints to the spot and cuts quickly back door.
1st 3 Shots: Right hand finishes using backboard
2nd 3 Shots: Left hand reverse finishes using backboard
3rd 3 Shots: Right hand floaters
4th 3 Shots: Left hand floaters
Michigan Finishing Drill
Demonstrated by Michigan's John Beilein at a clinic. Great drill for first step explosion and finishing with contact and defensive pressure. 1 must explode past the defender in order to get 2 on his/her hip. Then finish strong at the rim. 2 should contest but not get in the habit of fouling.
1 and 2 both face the basket
1 places ball on 2's back
1 rips ball of 2's back and attacks basket
2 tries to defend basket as 1 tries to finish