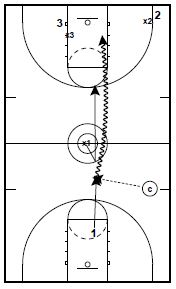 Today's post is more drills from a collection put together by Nate Hill, Assistant Boys Coach at Colonel Crawford High School in North Robinson Ohio.
These drills are drills to work on advantage reads that do not last very long.
He has coached for 18 years from 7th grade through Varsity Head Coach.
He has also started a basketball coaching newsletter.
You can see find more information about the Newsletter at this link: Next Level 419 Coaching Newsletter
In case you have any questions or comments for Coach Hill, here is his email address: [email protected]
The best use of these drills would be to use the concepts, but change the execution to fit your system.
Diagrams created with FastDraw
33 Attack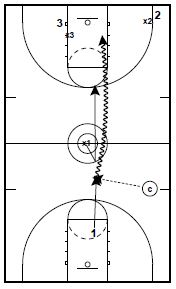 3 on 3 with Drive and Space reads.
Coach starts with ball and passes to 1 who is sprinting.
1 gets ball, runs through the circle and attacks the basket.
x1 cannot leave until he touches the dribbler in the circle.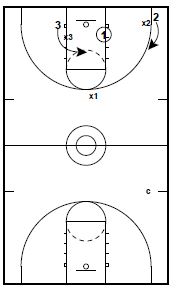 1 must make the correct read.
1 looks to pass to whoever stops him (x3 or x2).
2 and 3 also must read the driver.
Change offense and defense. Keep score like a game or come up with a scoring method that is better for your team for the purpose of this drill.
44 Attack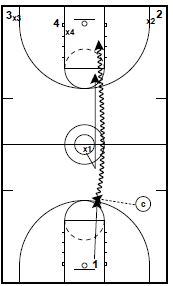 Same concept at "33 attack".
1 sprints and receives pass at full speed from the coach.
He looks the defender in the eyes and dribbles through the circle.
The defender must touch the ball handler before he can leave.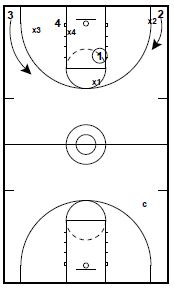 Driver (1) must make the correct read.
Pass to post (4),
kick out to wing (2),
or skip to weak side wing
Install your reads, rules, and reactions for your system.
Rotate offense to defense and keep score.
Play to a specific number of points or for a set time.
55 Attack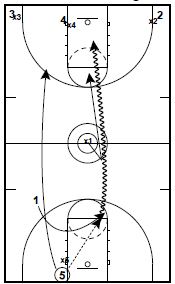 Same principles of "44 attack".
5 inbounds to 1 "looping" to the middle.
1 must run through the circle and get touched by the defender (x1).
x5 plays the inbounder (5) then sprints down the court.
Trail man (5) runs to the opposite midpoint.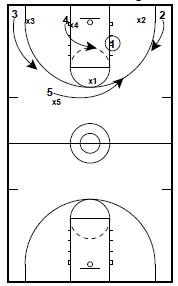 Driver (1) must make the correct read.
Pass to post (4),
Kick out to wing (2),
Skip to weak side wing (3),
Or kick out to trail making a "euro" (5).
All players must read the drive