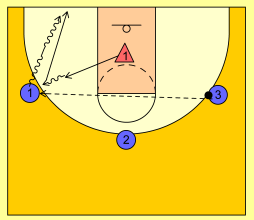 I found this drill on the Jes-Basketball.com There are several other plays and drills on that site.
The drill was submitted by Ryan Shaw
Adapt this drill to your defensive rules, principles, and the types of actions that you have to defend against.
3 gives a skip pass to 1.
D1 closes out and defends 1 by cutting off the baseline drive.
1 passes up top to 2 who tries to penetrate toward the middle and D1 shows help and makes 2 pick up the ball.
2 kicks to 3 and D1 jumps to position away from the ball.
3 penetrates baseline and D1 stops him outside the lane.