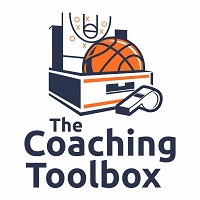 This post was written for PGC Basketball by Sam Allen.  Sam is the Director of the Essentials courses on the PGC summer tour, Coordinator for PGC/Glazier Coaches Clinics, and runs Blue Collar Basketball, focusing on team and individual training and basketball strength and conditioning.
Whether you are a high school or a college coach, perhaps your players could benefit hearing this message from another voice.
I have seen it all when it comes to recruiting. I coached college basketball for almost a decade and then ran a NCAA certified recruiting service that had college coaching subscribers from all levels so, to this day, I often get asked by athletes, parents and high school coaches about college recruiting. The recruiting process can be daunting and confusing, at times. However that process could be over before it begins if you allow these 5 habits to be a part of who you are.
While collecting my thoughts to write this article, I reached out to 15 male and female college coaches, from across the country. At every level, from Division 1 to Junior College, here is what they had to say.
POOR BODY LANGUAGE
The inability to show good body language on the court when things are not going well is a sure-fire way to catch the eye of a college coach – for the WRONG reasons. One PAC-12 assistant said he doesn't want "front runners" or players that are only good when things are going their way.  Another college coach, whose teams have been in 4 of the last 6 NCAA tournaments, said "Non verbal language speaks about character."Poor body language is a red flag.
Watch More: How to Communicate with Teammates
DISRESPECTFUL ATTITUDES
Disrespect can show up in a few ways.
"Players that never say thank you"

"Players that are never happy for their teammates' individual successes." 

"Players who are not respectful to parents"
A Division 1 Ace Recruiter said these, as well as many more, are troubling signs to college coaches. An associate head coach at the mid-major Division I level said "how they talk to their parents matters. We have eliminated a kid because he didn't respect authority."
POOR BEHAVIOR ON SOCIAL MEDIA:
Social media has really changed the landscape in college recruiting, especially in the last five years. An athlete's ability to make the right decisions on their different social platforms is key if their desire is to play at the next level. One college coach said they communicate to their kids how important their social media feeds are by saying, "Don't put anything on social media that you would not put on a live interview on ESPN." This has really helped filter out high character players and helped coaches learn where a player's priorities lie. Excessive retweets and posts all about themselves are a turn off to most coaches.
INABILITY TO PLAY PITCH AND CATCH
Coaches want to be able to hold a conversation both via text and over the phone. Unresponsive texts and phone calls leaves a college coach concerned and left to wonder. One-word answers leave an impression that you do not care or may struggle to effectively communicate to future teammates and coaches.
THE ME GUYS
Players that put themselves over the team. One Southern Conference coach said he receives texts that say, "My team lost but I had 21 points." This simple and harmless looking text will not give a good impression to a potential college coach. Basketball is a team sport and it takes everyone being bought into the system. Being disengaged on the bench, inattentive in huddles or comments after a game that put blame on others are signs the player does not truly care for the team. College coaches desire players that can get along with others and make the most of the situation.
Read More: It's Not What You Do. It's How You Do It
How do you not fall victim to these habits?
Get feedback from your current High School coach. Ask he or she what they would tell a college coach about you. You may be on par with that. If you disagree, remember there is a hint of truth in every criticism. There is still time to change your habits.
Next, focus on becoming the best teammate possible. Be "others-focused" rather than "me-focused." Really good college coaches will demand that you be a phenomenal teammate.
Now, drop the old habits. Build new habits that allow you to stand out in a good way to your teammates, coaches and college recruiters.
To learn more about PGC Basketball, including additional training tips and videos, you can visit their YouTube Channel