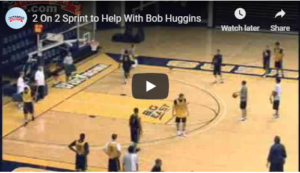 These videos are from West Virginia basketball practrices.
The videos are You Tube videos so make sure that you are on a server that allows You Tube access.
They are both called "Sprint to Help."
Make sure your sound is on.
The first drill is a buildup portion to his 4 on 4 shell which he calls "Sprint to Help" in order to emphasize getting off to the ball with an explosion rather than a half speed slide.
Click the play arrows to view the videos.
2 on 2 Sprint to Help Drill
If you are interested in finding out more about the DVD that these clips came from, click the link below.
4 on 4 Sprint to Help Drill