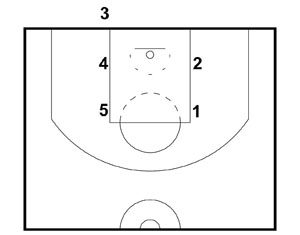 If you have an article or a play that you would like me to post, please email me.
This article was written and submitted by Jeff Haefner of Breakthrough Basketball
The play resulted in Bulls sharpshooter Marco Belinelli getting two clean looks at the basket.
Here is the initial formation of the play.
The posts are lined up on the strong side and the guards are lined up on the weak side.
Your best shooter should be on the weak side block. Your two best screeners should be on the strong side. Your best passer should inbound the ball.
The play starts with 2 setting a back screen for 1 on the weak side.
If 1 is open, you can hit him for a lay up. But the initial option is just a decoy.
The play is actually designed for 2 to go through a "sandwich" screen to receive the inbounds pass.
The shot can be taken from either mid range or the three-point line depending on the game situation.

This play is really simple but works extremely well because the initial back screen forces defenders to sink and protect the basket.
This opens up the double screen for the shooter.
Sometimes simple basketball is the best basketball. I guarantee you that your team will get a clean look if you execute this play properly.
Breakthrough Basketball has several other FREE inbounds plays to give your team the competitive edge.