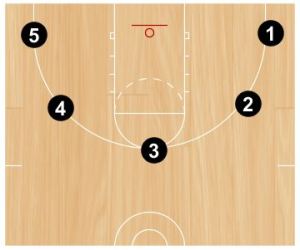 This drill is from Mike Neighbors, Arkansas Women's Basketball Coaching Newsletter. It is back and I just sent him several email addresses for coaches who were interested in joining his list. If anyone else wants to be added, let me know and I will pass it on.
You might be able to incorporate this drill into your practices or possibly for your players who are looking to get in some extra shooting during winter break.
Here is what Coach Neighbors said about the drill:
This one will challenge the best of your best.
Put 1:00 on the clock.
One rebounder. One passer. Two Balls.
Round 1
Shooter must make one shot at each of the five spots. Time starts when ball is released on first shot and ends when ball clears net on final make. The time that remains on the clock, stays on the clock.
Round 2
Add 1:00 to the remaining time from Round 1.
Shooter must now make two shots in a row from each spot in the time on the clock.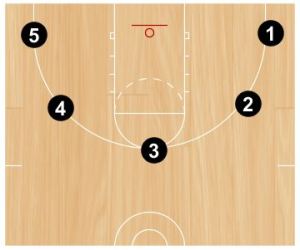 This procedure continues as long as the shooter finishes with time remaining on the clock… add 1:00 per round and increase the number of makes in a row by one.
It's imperative the shooter "build up time" each of the early rounds as the sheer number of shots increases in the later rounds.
If you find your team/players struggling to advance, you can change the drill to total number of makes rather than in-a-row.
We chart records on how many rounds and shots can be completed before time hits 0:00.
Keys to this drill:
1) Build time in early rounds
2) Avoid long slumps of makes
3) Get hot in one round when needed to survive