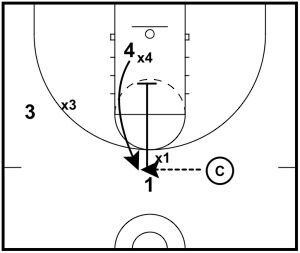 These defensive drills are from Matt Monroe's former Hoops Roundtable site.
The site had a lot of really good articles that he has written as well as contributions from several other coaches.
Modify these drills to fit what types of screen the screener actions that you defend throughout the course of your season that are run by your opponents.
You could add an element of a time limit or develop a scoring system for proper defensive execution so that players are competing against each other or against a scoring standard.
Diagrams created with FastDraw
Both drills are from Tom Kleinschmidt, Head Boys' Basketball Coach, DePaul Prep (Chicago):
Georgia Tech Continuous Screen Defense Drill
• Players align as shown, with the coach having the ball
• Each offensive player is guarded
• Drill begins with #1 screening for #4
• Coach passes to #4

• #3 down screens for #1 and the drill continues 3 on 3
Teaching Points
1. Emphasize all fundamentals of your screen defense
2. Be physical
3. Emphasize communication
4. Later switch all screens
5. Use both sides of the floor
Foot Step Drill
• A coach stands at the top of the key
• Two posts (P) have pads
• #1 is on offense
• x1 is on defense
• #1 passes to the coach
• x1 tries to force #1 out one side and get through P's screens
• Coach passes #1 and x1 "squares him up"
• On the pass back to the coach, #1 cuts off a back screen and x1 guards his cut
• #1 will go to the front of the rim and repeat the action on the opposite side
• Emphasize hard cutting and physical screens on offense
• "Body up" to cutters and "foot step" screens