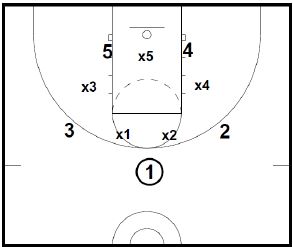 These notes and diagrams On Jim Boeheim's 2-3 Zone defense came from Mike Neighbors newsletter. Email me if you would like me to pass your email address along to Coach Neighbors to add to his newsletter.
Here is a link to the second part of this post with some trapping ideas
If a team is shooting 42% from 3, what would your assistants tell you to play?
They will tell you to play man. The opponent is shooting 42% against man to man, so they figured out how to get good shots against man to man, not necessarily against a zone.
2-3 Initial Alignment
5 defenders should be moving guards try to keep the ball out of the high post
On the perimeter, play 3 players with 2 guards and help from forwards
The top 2 guys must be close enough to touch hands.
2-3 Rotation on Pass to the Wing
Take away the 3 point shot–pressure shooters, get them off their spots.
Designate who to stop and all 5 guys are responsible for stopping him. Match up with him, no matter where he is.
The forward rule is if a man is open in front of you, pick him up.
First forward must close out on outside lane.
Forward bumps back into passing lane once guard gets there.
Center rotates to ballside block.
Helpside forward goes ot helpside block.
Helpside guard drops to foul line.
2-3 Rotation on Pass to High Post
If the ball goes to the high post, the center is responsible for playing the ball.
X3 and X4 drop to blocks.
X5 hesitates while the forwards drop to the blocks,then picks up the ball.

X1 and X2 go to the wings to take away the shooters.
If the ball is up top, the guard is up top against a shooter, but gives space against a penetrator or passer.
2-3 Rebounding Responsibilities
Weak side forward is alone on the weak side
If a team plays 4 out, they will not be as strong rebounding
There is no block out on the weak side, the weak side forward gets position on the edge
If the offense crashes the boards hard, Syracuse looks to run.
X5 gets position in the middle of the lane,
Ball side forward gets to the ball side block
The guard in the high post gets to the middle.
Ball side guard gets to the lane line.
Start teaching the zone with:
5 guys on the perimeter
Offense passes the ball for 25 to 30 seconds (this is how
long most teams take to attack the zone)
Defense moves on every pass.
Then, add two offensive players in the post and
play 5 defense on 7 offense
Here is a link to the second part of this post with some trapping ideas Syracuse 2-3 zone Part 2