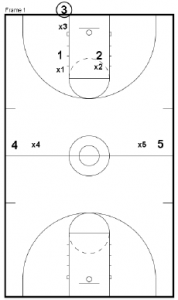 These notes and diagrams of the run and jump press are from the University of Wahington Women's basketball coaching Newsletter.
If you would like to subscribe, email me and I will forward your interest on to Coach Mike Neighbors,
The drills for the press are at this link
The notes are from the Run and Jump Press that is run by Coach Eddie Antrist of the University of Wisconsin-Stout
When running the press you do not need to steal the ball
If you think steal you will reach and foul
You want the offense to make mistakes
Teams that press tend to be over anxious
When starting the press you want to Pressure the ball right away.
You don't want the ball to be thrown in quickly
Better if one of your bigger players is on the ball.
Whoever scores is immediately on the ball.
X1 and X2 do not deny the inbounds
Stay behind the offense and allow them to catch the ball.
We want them to catch the ball in front of us.
If the ball is inbounded above the FT extended we are
automatically in the Run and Jump.
If they screen we will switch.
X4 and X5 are in a side position
We do not want the ball thrown over the top.
Not a total denial, nor behind
When the ball is thrown in (Frame 2) X1will put immediate pressure on the ball.
We are not worried about getting beat
Inbound defender must get below the line of the basketball into a gap position.
X2 and X3 must be on the ball side of the midline.
As you pressure the ball your objective is to get the ball into an uncontrolled dribble.
If they dribble to the middle we run and jump.
X1 will continue along that line and settle in the middle of the floor.
We do not want a reach and a foul.
Don't let the offense be comfortable.
We are not thinking steal, they will throw it away.
Get high hands on every run and jump situation.
If 4 or 5 would flash to the middle, the defender must take away the flash
If the ball is dribbled sideline, You could run and jump with the second line defender.
The original ball defender would continue along the same line
We do not want the deep defender (X4) to jump; it makes to pass over the top too easy.
Sideline Trapping (Blue Look)
When the ball is dribbled up the sideline, we will is turn and sprint and cut the offensive player off at some point.
We will chase from behind at get a trap near ½ court.
Trap could happen all the way down the court
You don't always know who is going to rotate. X2 could cut off the dribble while X1 traps from behind.