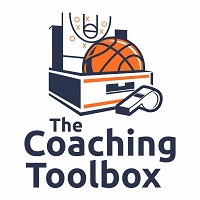 These defensive bites from Larry Brown were included in the same newsletter from Xavier that contained the Shell Drill with the interchange.  Here is the link in case you missed it:  Shell Drill with Helpside Interchange.
"I never remember losing a game because of constant back doors or lobs by the opponent. That's why I want to make offensive players 'drivers" by pressuring the ball. And, off the ball, I want to take away passes by denying. "
"You can't pressure the ball on the perimeter and then allow It to be easily passed to the post. Front the post when you pressure the ball. "
"In the NBA you can't allow the offense to run their plays. They will kill you. You must disrupt."
"As a college coach I spent 30 minutes per practice on guarding the dribble.
"On defense I love to deny one pass away. Don't let the offense change sides with the ball.
"Why would the defense double team in a late clock situation? You will give up a shot unnecessarily."
"Work on "shell defense" everyday. Don't get caught up in the offense's alignment, mix it up."
The Coaching Toolbox has hundreds of resources for basketball coaching including basketball practice, basketball plays, basketball drills, basketball quotes, basketball workouts, basketball poems, and more!