Today's post contains two quick hitting plays that you can set up during a time out or to start a quarter or half when you are facing a 2-3 zone defense.
Adjust these sets to fit your players and philosophy and/or take bits and pieces to combine with what you already run against 2-3s.
The plays are from The Best of Special Teams Playbook assembled by Chris Filios. The playbook contains 210 basketball plays from 40 different NCAA teams. It is paired with Scott Peterman's Ultimate Matchup Zone Defense Playbook as this week's eBook special. You can find out more about what is included in the bundle at this link:
Best of Special Teams Playbook and Ultimate Matchup Zone
Diagrams created with FastDraw
UNC Wilmington Sprint High Ball Screen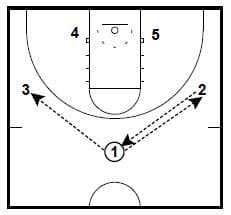 1 passes the ball to 2, gets a return pass, and then reverses to 3 to force the zone to shift.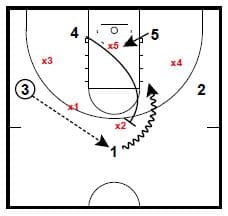 As 3 passes back to 1, 4 sprints into a ball screen.
5 seals in x5 to open up a drive for 1.
2 can move to an area for a pass from 1 if x4 helps on the drive.
San Francisco Cross Screen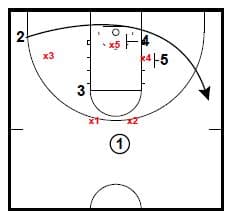 2 starts in the corner and cuts to the opposite wing.
4 and 5 screen in the middle and low defenders of the zone.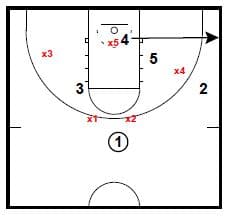 After screening in, 4 cuts to the corner on the same side of the floor as 2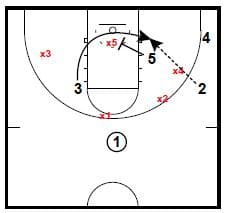 5 screens the middle defender and 3 cuts to the ball side block.
The plays are from The Best of Special Teams Playbook assembled by Chris Filios. The playbook contains 210 basketball plays from 40 different NCAA teams. It is paired with Scott Peterman's Ultimate Matchup Zone Defense Playbook as this week's eBook special. You can find out more about what is included in the bundle at this link:
Best of Special Teams Playbook and Ultimate Matchup Zone