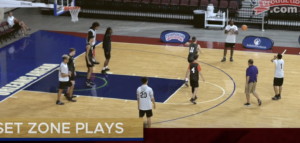 Coach Gillispie shows a quick hitter he has used to bet the ball to the block against a 2-3 zone. At the end of the 3 minute video, he briefly discusses how he uses a player's defensive ability to determine what role they can play on offense. He uses this to motivate them to improve at the defensive end.
with Billy Gillispie,
Tarleton State University Head Men's Coach;
former Head Coach at Ranger College, Texas Tech, Kentucky, Texas A&M and UTEP;
2008 SEC Co-Coach of the Year;
2x Big 12 Coach of the Year (2005, 2007);
over 250 wins at the collegiate level
Having taken three different schools to the NCAA Tournament, along with success at the junior college level, Billy Gillispie has developed winning programs everywhere he's coached. One area where his teams excel is in their execution of set plays against zone defense. In this on-court presentation, Coach Gillispie demonstrates a variety of set plays and wrinkles that can be used to attack zone defenses.
We are providing this drill to give you ideas on how to enhance your current practice drills. The idea is not to implement it exactly as is, but rather to tweak it to make it fit your system.
There is sound with the video, so please make sure that your sound is on.
This is a YouTube video, so you will need to be on a network that does not block YouTube videos.
For more information about Coaching to Win + Set Plays vs. Zone Defense, click here: Coaching to Win + Set Plays vs. Zone Defense – Basketball — Championship Productions, Inc.