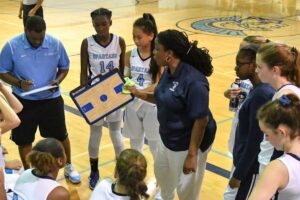 Former Division I player and coach Yolanda Bronston was looking to give this Jacksonville-area girls basketball program a shot in the arm when she took over in 2017. Hudl's tools gave her rocket fuel.
Yolanda Bronston knew it was going to be an uphill battle when she took over the girls basketball program at Orange Park, Fla.'s Saint Johns Country Day, a small private school in suburban Jacksonville that was struggling to compete. The Spartans had won just one game the previous season, hadn't had a winning season in nearly a quarter-century, and the head count was thin. Of the 10 players on the varsity roster, six were middle-schoolers.
Bronston knew she had the chops to whip this program into shape, based on her experiences in Division I college basketball as both a player (Central Connecticut State, 1991–95) and an assistant coach (Norfolk State, 1996–98). What she didn't know was how rapidly the program's culture would transform through the use of Hudl's video analysis tools.
Basketball used to be something the girls in this program did mostly for leisure. Now, the program i
s full of players with earnest aspirations beyond high school. Three of her seniors are looking to play in Canada after graduation. One of those middle-schoolers she inherited got her first start as a 10-year-old; she's now "on track to be a scholarship athlete" as she begins eighth grade. Another player, an incoming freshman, is serious about wanting to play Division I college basketball.
"She wants to get to the WNBA, so my job is to take her to the next level," Bronston said.
The Spartans posted back-to-back winning seasons under Bronston's watch, including a 16-8 campaign in 2018–19 that featured a 10-game win streak and Conference Player of the Year honors for her top senior, Kendall Sage.
"Without Hudl, I don't have a conference player of the year," Bronston said. "I'm not able to show her and her teammates, 'This is what we need to work on. This is what I mean by filling the lane, defense in transition, defensive rotations'. Kids learn differently. A lot of them learn by seeing."
How did this all happen so quickly?
Smarter, more engaged players
First order of business for Bronston was to instill more purpose into these players' workflows.
"These girls were all kinda playing for fun, and didn't really understand the game," Bronston said. "Teaching basketball IQ was a huge part of the task, as far as what I needed to bring to the table for the program to turn around."
The surest way to building that IQ, Bronston knew, was going to be to invest in some kind of video software. It was a far cry from her experiences at Norfolk State two decades ago, when scouting reports relied on word of mouth from a coach's network and game tapes (when available) were on VHS. With so many more advanced video resources readily available at the grassroots level in today's game, putting those tools in the hands of someone as experienced as Bronston was like rocket fuel.
"Without Hudl, I don't have a conference player of the year. I'm not able to show her and her te

ammates, 'This is what we need to work on. This is what I mean by filling the lane, defense in transition, defensive rotations'. Kids learn differently. A lot of them learn by seeing."
That first season, Bronston had games filmed, and was able to sit down with her players and walk them through where they needed improvement. The Spartans went 12-10 that season, with players as young as 12 years old having to log critical minutes, for the program's first winning season since the early 1990s. But there wasn't enough time in a day to get everything she wanted out of it.
Enter Hudl and Hudl Assist, which fostered an even more accelerated improvement in year two. Players weren't just watching film—they were watching it on their own before film sessions, making for more engaging chalk talks. Film doesn't lie. Neither, Bronston says, do numbers and statistics.
And the numbers at Saint Johns painted a colorful picture. Spartan players littered the top of leading scorers, rebounders and assists lists in the local media outlets. All-Conference and All-County honors rolled in. The difference, she says, "was literally night and day."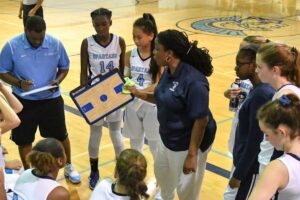 Strong efficiencies
Bronston believes strongly in having sound man-to-man defense principles at the foundation. If you want to play at the next level, she says, you can't afford to just sit back in a zone defense. Even the most effective zone defenses in college, such as Syracuse's celebrated 2-3 Zone, require you to first be disciplined in man-to-man.
Paired with an offensive style that constantly looks to push tempo, the Spartans are suddenly hard to stop. Bronston uses film study to fine-tune the details that add up to a tough, physical defense, from diving for loose balls to deflections to rotations.
With Assist's lineup efficiencies tracking, Bronston has been able to learn what lineup to use when a certain situation calls for a particular strength on the court.
"I'm used to watching film, but to be able to break down by player, the analytics have been amazing," Bronston said. "I know which lineup is my scoring lineup. I know the lineup to put in when I need steals. At the end of the game when I need free throws, I know the best lineup for free throw percentage. I use it for everything."
More time back
When it comes to game prep and scouting, Bronston estimates that Hudl Assist has freed up anywhere from 17 to 20 hours per week for her during the season. That's time she reinvests elsewhere in the program, to touch up on player development and game strategy.
This year she's adding another assistant coach, a former head coach from a familiar opponent who works with Bronston in the offseason. And without needing to assign stat-keeping to any coaches during the game, she's challenging herself and her staff to elevate their game. That free time is going to allow her to take a deeper dive at the advanced analytics offered from Assist, using the efficiency metrics to "cut the fat" with what's working and what's not.
"I'm planning on doing more this year," Bronston said. "I've been reaching out to other coaches in the area about doing film exchanges on Hudl. Just being able to break down that film, that's huge. It's literally a game-changer."