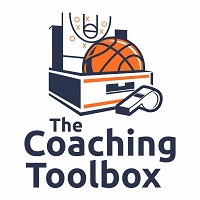 Submitted by Coach John Kimble
CoachJohnKimble.com
Retired high school and college coach
Follow him on Twitter @CoachJohnKimble
This post was originally written for Winning Hoops
Editor's note from Brian Williams: I believe that whatever is recorded and rewarded will improve.
You might not have the resources to use all of these, but here is a very thorough player performance grading scale.
Hopefully, at the least, you can find a couple of items that you can track to emphasize the areas that you need to be good at to be successful
OFFENSIVE PERFORMANCE GRADE VALUES

TOTAL POINTS SCORED +1
INSIDE SHOTS MADE +2
INSIDE SHOTS MISSED -1
OUSIDE SHOTS MADE +2
OUTSIDE SHOTS MISSED -1
3 POINT SHOTS MADE +3
3 POINT SHOTS MISSED -1.5
FREE THROWS MADE +1
FREE THROWS MISSED -1
OFFENSIVE REBOUNDS (FG) +2
OFFENSIVE REBOUNDS (FT) +2
OFFENSIVE HUSTLE PLAYS +3
OFFENSIVE "LOAFS" -3
OFFENSIVE "BIG" PLAYS +3
GOOD SCREENS +1
INSIDE PASSES +1
ASSISTS +2
OFFENSIVE FOULS -2
BAD PASSES -2
BALL VIOLATIONS -2
FUMBLES -2
TIME VIOLATIONS -2
"OTHER' VIOLATIONS -2
YOUR SHOT BLOCKED -1
OFFENSIVE MENTAL ERRORS -3
OFFENSIVE SMART PLAYS +3
BAD SHOTS TAKEN -1

PLAYER'S OFFENSIVE GRADE ***

DEFENSIVE PERFORMANCE GRADE VALUES

PRESSURE DEFENSE +2
DIVES FOR TEAM +2
DEFENSIVE HUSTLES +3
DEFENSIVE LOAFS -3
DEFENSIVE "BIG PLAYS" +3
DEFENSIVE REBOUNDS (FT) +2
DEFENSIVE REBOUNDS (FG) +2
GOOD BOXOUTS (FG) +1
"OVER THE BACK" BOX OUTS +3
STEALS/RECOVERIES/INTERCEPTIONS +3
FORCED TURNOVERS +2
PASS DEFLECTIONS +1
"WOLF" DEFLECTIONS +1
HELD BALL BY DEFENSE +1
BLOCKED SHOT +2
DRAW THE CHARGE +3
CHARGE/BLOCK FOUL +1
NO FT BOXOUT -3
NO FG BOXOUT -1
DEFENSIVE FOULS -1
OTHER DEFENSIVE VIOLATIONS -1
DEFENSIVE MENTAL ERRORS -3
DEFENSIVE SMART PLAYS +3

PLAYER'S DFENSIVE GRADE ***

OVERALL PERFORMANCE GRADE
TOTAL OFFENSIVE GRADE
TOTAL DEFENSIVE GRADE
TOTAL OVERALL GRADE
Offensive Grade/Minutes Played
Defensive Grade/Minutes Played
Total Overall Grade/Minutes Played
Offensive and Defensive "Leaders" wear "Leaders"
Practice Jerseys, have their name on the Leader
Boards both in the gym and locker room, have
stickers put on their locker and are the next
game's captains.
About the Author
Coach Kimble was the Head Basketball Coaching position at Deland-Weldon (IL) High School for five years (91-43) that included 2 Regional Championships, 2 Regional Runner-Ups and 1 Sectional Tournament Runner-up. He then moved to Dunlap (IL) High School (90-45) with 2 Regional Runners-up, 1 Regional, 1 Sectional and 1 Super-Sectional Championship and a final 2nd Place Finish in the Illinois Class A State Tournament. He was an Assistant Basketball Coach at Central Florida Community College in Ocala, FL for 1 year before becoming Offensive Coordinator and then Associate Head Coach for 3 additional years He then was the Head Basketball Coach at Crestview (FL) High School for 10 years, averaging over 16 wins per season.
He has had articles published in the following publications such as: The Basketball Bulletin of the National Association of Basketball Coaches, the Scholastic Coach and Athletic Journal, Winning Hoops, Basketball Sense, and American Basketball Quarterly. He has also written and has had five books published along with over 25 different DVDs by Coaches Choice and Fever River Sports Production.
See him on Twitter @CoachJohnKimble and his Web Page "www.CoachJohnKimble.com"