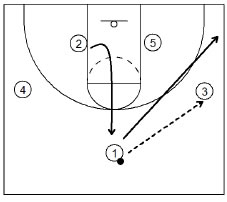 This is a set to run against a man to man defense.
This play came from coach Creighton Burns' Newsletter. It offers a couple of choices for your #3.
#1 will make the entry pass to #3 and run a corner cut to the ball side corner.
#2 will set his man and cut hard up to the point.
#3 will pass the ball to #2 at the point and cut through to the opposite block.
#2 will swing the ball over to #4, and then move down to set a double screen with #5.
#1 will cut hard to fill the point.
#4 will make the pass to #1 at the point. On this pass, #3 will use the double screen and either "curl" around the screen, or cut at a "45" off the double screen.
When #3 frees himself, #1 will get him the ball. If #3 curls and does not get a pass, #2 will pop out to the wing to create a passing lane for #1. #1 will then give the ball to #2 and #2 will look inside to #5.
In this diagram, #4 passes and screens down for #3. #3 accepts the down screen from #4 and cuts out to receive the ball.
#3 may have a shot, or a feed down low to #4. Note: #1 will pass and replace himself. When #2 sees the "crackdown" he will pop out and fill the wing.
#3 may have a shot, or a pass inside to #4.
#5 will move up the lane line toward the elbow to take the back side help away.
If the defense is fronting #4, #5 may step to the ball for a "hi-low" situation.