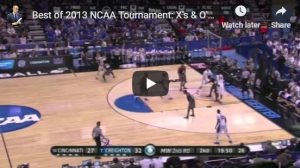 A great idea this time of year is to either set your DVR for the men's and women's NCAA, NIT, and high school basketball tournament games that are on TV. That way you can go back any time this spring or summer to pick up some great man to man, zone, and inbounds plays. I also like to look for sideline, under out, and on ball screen sets in the upcoming NBA playoffs.
This video is a compilation video with some of the favorite man to man sets, zone sets, and baseline inbound plays from last year's NCAA Men's Tournament of Zak Boisvert.
He is an Assistant Men's Coach at Army.
I have previously posted some of the You Tube videos His You Tube channel is: Zak Boisvert You Tube Channel
If you are interested in subscribing.

He also is also very active on Twitter: @ZakBoisvert