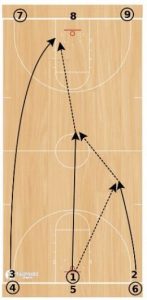 This shooting along with conditioning drill was posted on the FastModel Sports Basketball Plays and Drills Library.
You can also find out more about FastModel Play Diagramming software by clicking this link: FastDraw
5 Minute Full Court Shooting
This drill was contributed by Wes Kosel, assistant coach for men's basketball at Colorado College.
This is what he said about the drill:
This is another great drill to get your players running the length of the floor and shooting a bunch of shots at the beginning of practice.
Editor's Note: You could also use it as a competition/conditioner at the end of practice.
Players 1, 2, and 3 start the drill. Players should not dribble during the drill.
Player 1 passes to 2 running up the floor. 1 and 3 moves up the floor as well. 2 passes back to 1 who passes to 3 for a lay-up.
1 moves behind 3 and receives a pass from 7 for a shot. 2 receives a pass from 9 for a shot.
Players 1 and 3 rebound their shot and fill the lines left vacant by 7 and 9.
8 takes the ball out of the net and picks a side to pass to first.
8 passes to 7. 7 passes back to 8 running up the floor.
8 then passes to 9 for a lay-up.
4 passes to 7.
6 passes to 8.
7 and 8 then take a shot, and the drill continues with 4, 5, and 6 running up the floor.