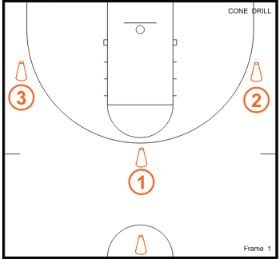 These basketball shooting drills are from an archived Xavier Men's Basketball Newsletter.
If you are interested in seeing the archive of their newsletters, click this link:
I am posting the drills as they were developed for a top Division I program. My purpose is to give you something new to adapt to fit the needs of your players and program. To me, summer skill workouts are huge to the success of a basketball program. Keeping players motivated with competitive drills that have standards to meet is the best way to motivate players to work at their games in a meaningful way.
3-6-9 Shooting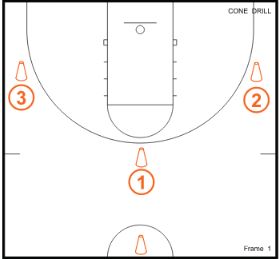 Best drill for separating SHOOTERS.
Begin with "3".
Player starts behind cone at half.court
Player comes running ful speed at CONE 1 to attempt shot #1. As soon as his feet hit the ground he is sprinting toward CONE #2 to attempt shot #2. Repeat to CONE #3
If the shooter makes all three shots he is done with his 3… however if he makes less than three he must spnnt back around the cone at the half court line and repeat the above until he makes a total of 3 shots
Now go for "6." Repeat the same above pattern. As an added incentive when shooting anything above a "3," if the shooters makes all three shots in the sequence but has yet to reach their total goal I. they do not have to sprint back around the hatfcourt cone.
Onty your best shooters will make it to 12s!!
With your best shooters add this–after they begin to lose interest. Put a cone at the opposite baseline, one at top of the opposite key. and one at half court. Use these cones in this manner .. If they go 0-3. they go around cone on opposite baseline. If they go 1-3 they around cone at top of the key If they make 2-3 they go to half-court.
This also places importance on MAKING SHOTS!I!
W Shooting Drill
Another way we want to simulate game shots, at game spots, at game speed.
SERIES 1: Shooter starts at the left side of half court, runs to the left corner inside the arc. A shot is taken then the player spnnts to the half-court line (use cones early on at half-court to show them where to go). the shooter continues this W pattern until they have attempted shots from aN five spots.
SERIES 2: Shot #8 to #10 are sprints to half court then back to wing (or a 3, back to half court and continue