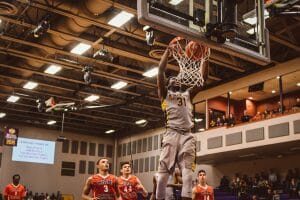 You want to get your athletes recruited and have success at the next level. Hudl met with a member of the Tennessee basketball staff to find out how.
Riley Davis, video coordinator for the University of Tennessee men's basketball team, receives at least five highlight videos in his email inbox each day, – and those are the slow days. Often the number of submissions balloons to over 20, creating a very busy workload for one the top members of Rick Barnes' recruiting staff. People like Davis don't have that kind of spare time on their hands.
So if your players want to make a mark with their highlight film and get true attention, they have to do it fast. Most days, Riley doesn't have time to sift through a 10-minute video of top moments. They have to show off their most impactful moments right off the bat.
"The goal of the kid should be to say, 'Here's what I can do. Now I've got you baited. Now go watch a whole game,'" Riley said.
Riley took some time to speak with us about what the top college programs are looking for when they watch a highlight video. Want your players to get noticed by the big boys? Give them this advice.
Show the Offense First
Of course colleges are interested in seeing how a prospect can defend, rebound or pass the ball, and these skills will play an important role in getting recruited. But first and foremost, they want to see if players can get put the ball in the bucket – they'll look into the rest later.
"If they catch our attention with (scoring), then we'll go in and watch the full game and then we'll see how hard they play, the little details and that stuff," Riley said. "I think the best way to catch someone's eye is if I can see a kid can shoot.
"You can catch my eye in 30 seconds. If I see a kid come down and hit a couple 3s and I know he can handle the ball and I know he's 6-foot-5, then I'm going to watch the full game."
Some athletes, especially those who pride themselves on defense and hustle, will lead off with clips of them diving for loose balls, saving balls from going out of bounds and bodying up an opposing ball handler. Coaches do want to see those skills, Riley said. But if they can't score, it's going to be tough for them to make it at the college level.
"A lot of (the videos I receive) will be some inspiring kid that believes in the right stuff," Riley said. "He's all about hustle and work ethic, and the highlight shows him diving on the floor or in a defensive stance, and all that stuff is very important. But we'd rather see the scoring first, then see if he does all that other stuff. The kid could do the little stuff, but he could be a very poor offensive player."
Riley also recommended including a title slide near the beginning that lists height, weight, GPA and relevant stats. This gives coaches a good idea of what they should look for before the video even begins. Keep it short.
Stick to Basketball
This may seem obvious, but many athletes will include a slide with a quote from their high school coach or a local newspaper article at the beginning of their video. Some will show themselves working out in the weight room or on the track. Don't have your players do this.
If the coaches watch a highlight and like what they see, they'll do their research and find out about character and lifting prowess. First and foremost, they want to see an athlete's skill on the court.
Riley brought up Kevin Durant, who played under Barnes at Texas and famously failed to put up a single bench press rep of 185 pounds at the 2007 NBA Combine. That didn't matter – Durant became one of the best players in the world.
"We're interested in you character and things like that, but we'll find that stuff out later. We want to find out if you can play first," Riley said. "The most important thing you want to do is show your ability to play basketball with video."
Share, Share, Share
Even the best video won't get its due if people aren't seeing it. Sharing that video effectively can be the difference between it going viral or falling into a black hole.
According to Riley, email is the first step. Help your players identify schools they're interested in – even better if they've shown interest back – and have them email both coaches and video coordinators on the staff. Riley said he tries to watch at least a little bit of every video he receives directly.
Next, blast have your players utilize social media and tweet the highlight to coaches. There's no guarantee they'll see it, but it doesn't hurt to try. Send it to local recruiting affiliates, talent evaluators and respected local coaches, as well. If a video goes viral, there's a much better chance coaches will see it.
"The thing about Twitter and social media is you can get some hype behind it," Riley said. "If I see a third party tweeting it, I'm thinking, 'OK, this isn't coming from the kid. This obviously has some hype behind it, I'll check it out.'"
This is part of the reason Jordan Bowden ended up in Knoxville. The shooting guard showed up on recruiting radars by showing off his aversion to gravity in a dunk-filled highlight.
Make sure you share the highlights as well. Just one recommendation from a respected coach is likely to catch an evaluator's eye.
A highlight can be the ticket that blows up an athlete's recruiting profile and gets them noticed by college coaches, but they have to do it right. You can help them out. For more examples of strong videos, check out this page.