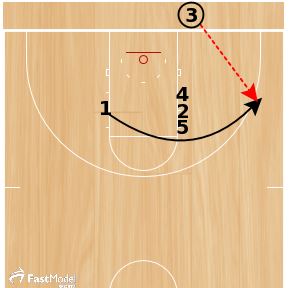 These two inbounds plays came from the FastModel Sports Basketball Plays and Drills Library.
The site has thousands of drills and plays that have been submitted by basketball coaches from around the world.
The first play is an under the basket inbounds play, the second is a side out play.
You can also find out more about FastModel Play Diagramming software by clicking this link: FastDraw
Contributed by Brandon Mullis, Ragsdale High School in Jamestown, NC
This is a last second play that can also be used at the end of quarters in high school.
One of our opponents ran this BLOB to perfection against us a couple seasons ago.
We did not defend the action very well and gave up the open shot in the corner to lose by one point.
BLOB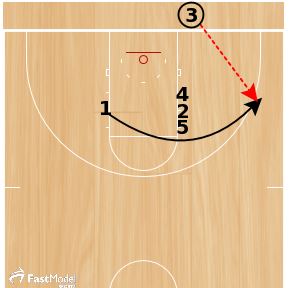 1 comes off the triple stack to receive the inbounds pass at the low wing/corner from 3.
1 dribbles toward the top of the key while 2 and 5 move to middle of the lane to set staggered screen 3.
As soon as 3 clears 2, 2 curls around 4's screen to the corner.
1st Option: 1 passes to 3 for the shot near the top of the key, coming off the double staggered screens from 2 and 5.
2nd Option: 1 reverse pivots and passes to 2 in the corner for the shot, coming off the screen from 4.
Wizzards Curl Hammer SLOB
Submitted to FastModel by Kyle Gilreath,
This play that the Washington Wizards ran at the end of Game 4 in the 2015 Playoffs against the Hawks for Paul Pierce is one of my new favorites. It is very simple yet extremely effective as a misdirection.
2 (Beal) curled off a stagger from 3 (Pierce) and 1 (Wall).
After receiving the inbounds pass, 2 dribbled to the baseline as 5 set a hammer screen for 3.