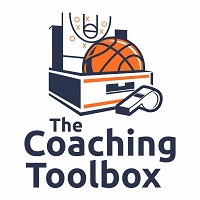 This post contains thoughts from two articles from Texas A&M Women's Assistant Bob Starkey on their defense. His Hoop Thoughts Blog is another great resource for basketball coaches.
I hope these ideas give you some ideas for developing or improving the Defensive Non-negotiables for your program.
Defensive Non-Negotiables
We'll start with some basic concepts (our why) that guide what and how we do what we do:
WE WANT TO TAKE AWAY THE PAINT AT ALL TIMES
When the ball gets to the paint it creates easy shot opportunities in the paint
When the ball gets to the paint it creates easy perimeter shots
When the ball gets to the paint it creates help and recover situations
When the ball gets to the paint it creates closeout situations
When the ball gets to the paint it creates fouling situations
…taking away the paint starts with transition defense
…stance, head, eyes and footwork are critically important
…team defense — having the ability to help early — is a necessity
WE WANT A HAND ON THE BALL
When the ball handler has the ball and has not dribbled…
…we want to have a hand on the ball — constantly mirroring the ball!
When the ball handler is dribbling…
…we want the defender to have a hand on the ball as it is dribbled!
When the ball handler is attempting to pass…
…we want a hand on the ball as it is passed with the goal of deflecting it!
When the ball handler is attempting to shoot…
…we want a hand on the ball to block or alter the shot!
WE WANT TO TAKE AWAY THE OPPONENT'S STRENGTH
This will come from scouting and game preparation

WE WANT TO HAVE A COMMUNICATIVE DEFENSE
We want to be constantly talking at all times
This will increase out concentration and execution

WE WANT TO DO ALL THE ABOVE WITHOUT FOULING
Do not give your opponent's easy scores and free throws are easy scores
Don't bail out bad shots or bad plays
Make our opponent's make plays
WE WANT TO FINISH WITH A BLOCKOUT AND A REBOUND
Grabbing the rebound is like picking up your paycheck at the end of the work week.
The next portion of this post is from Coach Starkey's article on Transition Defense
GOOD OFFENSE LEADS TO GOOD TRANSITION DEFENSE
In all successful journeys there is the first step. For each defensive possession, there is transition defense and those teams that stress and excel in this phase are further a long in being good defensively than those teams that don't.
Ironically, I think when you start the conversation about great transition defensive teams, you must being on the offensive end. Your offense can go along way in setting the table for your transition defense.
Offensive keys that aid in solid transition defense include
1. Floor balance…have proper spacing which allows your offense to be in a position to get back defensively is extremely important.
2. Shot selection…how many times have you seen a bad shot lead to a transition basket? You offense can anticipate transition defense better if they know when, where, and by who in terms of the shot being taken.
3. Value the ball…the hardest thing to convert back on is a turnover. If the turnover is in the open court it can be.
Therefore, teams that shot at a high percentage and take care of the basketball tend to be at the least good defensive teams because they have given their defensive an advantage in terms of conversion.
THE CONDITIONING FACTOR
The other element of transition defense before we go over the guidelines is conditioning — and I believe this is two fold:
1. Physical Conditioning
Teams committed to great transition defense are in great physical condition. They pay the price in fall conditioning and continue to value conditioning through their practice habits. One of the first places a player will take off when conditioning is a factor is in getting back defensively.
2. Mental Conditioning
This is one that must be developed through the structure of your practice. There cannot be a mental "delay switch" for players in terms of getting back. It can't a be a shot taken and then a one or two-second period where the defense is watching.
"If you think that your half-court defense wins your games, you don't understand the game. If you take film and break it down, you will find out that only 30% of your points are coming out of your set plays and the other 70% are coming in transition, second shots, and foul shots. So the transition game is what it is all about."
-Hubie Brown
We tell our players its "one or the other." Either you are going to the offensive boards or you are sprinting back (unless we are in a full court press).
The setup and execution of your practice will be singular most important thing you do to develop both physical and mental conditioning for transition defense. While certainly all coaches have a series of transition defensive drills they live to utilize, one of the most important things you can do is to always convert during scrimmage situations. And in those conversion situations, stress, teach and coach transition defense.
AGGIE TRANSITION DEFENSE GUIDELINES
SPRINT BACK…STRAIGHT LINES…NO BACK PEDALING
Important to know in transition defense that the first three steps are the most critical…don't worry about find the ball during those first three steps…get out quickly with long strides and cover as much territory as possible.
TALK & POINT UNTIL EVERYONE IS MATCHED UP
To be successful on a consistent basis, all five players must be engaged in talking and pointing…there will be times when we have to defend someone other than are original assignment but there should never be a situation where we have two players on one offensive player and another player wide open.
"LOAD TO THE BALL" HEAVY HELPSIDE…5/4…5/3…5/2
As we are getting back, if you are not sure immediately who you are picking up, move to the middle of the floor in a help and anticipate position…it will give you a closer angle to pick up someone on the ballside…if end up defending someone opposite the ball then you are in help where you should be any way.
PICK UP THE BALL (ONCE THE HOLE IS COVERED)
We want to pick up the ball as early as possible and funnel it out of the middle…however, we don't want to leave someone under the basket wide open…once we know we have the rim covered, aggressively and intelligently attack the basketball.
TAKE AWAY THE RIM AND THE BALLSIDE LOW POST
While this is the primarily responsibility of our post players, perimeter players may have to assume this responsibility at times…make sure we don't allow easy post feeds from the point guard or the wings…if we are mismatched, fight to front the low post until help comes.
POST DEFENDERS: MEET THE OPPOSING POST AT THE ELBOW
We want to be waiting with an extended forearm…the goal is to stop the post or force her to veer one way or another…at no time is it acceptable to allow an opposing post a direct cut to the low post for an immediate post up opportunity.

FIND & PICK UP DEAD 3'S EARLY
At least 3 steps above the arc…giving up an open, rhythm 3 is also unacceptable…Goal #1, take away the touch…Goal #2, force catch further away then where she wants to catch…Goal #3 (last resort), closeout hard to force her to put it on the floor and now allow her a clean rhythm look.