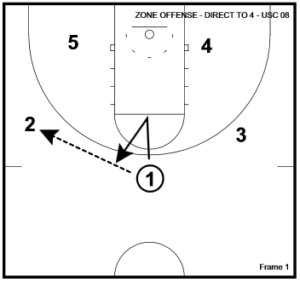 These set play to run against a 2-3 zone was posted on Xavier Men's Basketball Coaching Newsletter Archive.
Click here for their entire archives
The play is a way to get the ball inside to the block against a zone defense.
There are more zone attack plays listed at the end of the post.
3 out 2 in alignment
1 passes to 2 then replaces himself
2 passes back to 1.
5 and 4 screen along the baseline for 2 as he cuts through the lane.
As 1 dribbles the ball to the right deep elbow.
3 screens the center of the zone.
1 looks at 2.
1 passes to 4 behind the bottom zone defender.