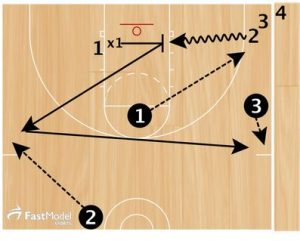 This drill was posted by Coach Trevor Daugherty on Fast Model's Basketball Coaching Plays and Drill library.
You can see all of the plays and drill they have posted on this link:
Fast Model plays and drills library
Coach Daugherty stated: " This is one of my favorite hustle drills that I have seen out there, great combination of team unity and effort.."
Below the diagram and the description of the drill, there is a You Tube video of Shaka Smart doing the drill himself to end VCU's Final Four practice in 2011
X1 starts by defending post,
Coach1 throws ball to corner who drives,
X1 must take charge, then sprint to sideline where Coach2 rolls by towards endline for diving save,
X1 then sprints to opposite sideline where he must jump to save ball thrown by Coach.
Make sure your sound is on to see the You Tube video below of Shaka Smart demonstrating the drill at the 2011 Final Four.
Even though the video was filmed several years ago, the drill still has value.
It will have even more value if you add in your own ideas and make it something that fits what you do.
Here is another video of Shaka Smart going through a portion of his diamond press:
If you are interested in seeing more about Coach Smart's Havoc Pressure Defense DVD, click here: