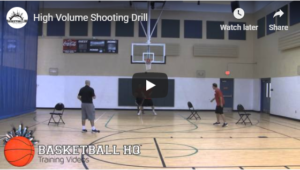 Current Arkansas State and former Louisville Assistant Coach Mike Balado takes you through a shooting drill that he has used at the end of individual development workouts.
The video is 5 minutes long.
The goal in this drill is for players to make 80% of their shots in workouts when they are unguarded.
In this drill, that equates to making 10 of the 12 shots.
I don't send out the resources to say that is how you should do it. I
send them out to stimulate thinking to take an idea or two and adapt it to what you do or to motivate you to think about what you are doing and how to do it better.
The video is one of the 1,000's of basketball training videos for all levels of coaches, players, and parents that is offered by BasketballHQ.
You can access their entire library with a pro membership.
They offer a free 7 day trial for the membership. If you are interested, you can see more at this link: Basketball HQ
Make sure that your sound is on to hear the instruction and click the play arrow to start the video.
This is a YouTube video.