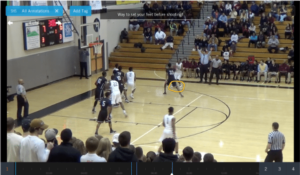 Even the best shooter are going to run into a slump at some point. Hudl provides some tips to help get your marksman back on track.
Following a 2-for-7 outing on Nov. 7, Klay Thompson was shooting a frigid 22.9 percent from 3-point land on the season. One of the best shooters in the league (and maybe NBA history), the Golden State guard had bricked his way to a worse 3-point percentage than Tony Snell, Marcus Smart and Emmanuel Mudiay, players routinely ignored by opposing defenses from deep.
It's not that Thompson forgot how to shoot. He was just going through something even the game's finest marksmen experience – a shooting slump. Not even the most prolific shooters are immune to slumps. The question is, how do you escape it?
Thompson clearly found his way. Since the rough start, he's shooting 47.5 percent and is once again the force of nature that has foes wincing every time he pulls up. You may have some players who aren't shooting as well as you know they can. Here are four ways Hudl can help get them back on track.
1. Pump up the Positivity
When a shooter is feeling it, the rim looks a lot wider than 18 inches – it appears as cavernous as the Grand Canyon. On the same token, a slump shrinks the hoop to the size of a pinhead, impossibly small to squeeze a basketball into.
This is the mental game that every athlete fights at some point in the season. Most of the time the player's mechanics are just fine, but his head is in the wrong place. He just needs to be reminded of his ability, and the shot tends to come back quickly.
Be very positive with your players. Stress their talent even amidst some struggles. Create a playlist with clips of hot streaks from previous seasons to remind them of their ability. Pepper in some notes in the video to pump your shooter up.
"If you're a shooter, you're going to miss shots," Ryan Vasquez, the head coach at Sterling High School (Ill.), said. "You still have to be ready to catch and shoot and be able to go. At the same time, kids have to understand, 'Well, my shot isn't falling, so what can I do to regain my confidence?' We go through that on film."
2. Get Them to the Right Spots
Every player has certain areas of the floor that he's more comfortable shooting from. Maybe your struggling shooter isn't finding these spots or you as a coach aren't running plays that put them in optimum scoring position.
Take a look at your athlete's shot chart to get an idea of where they're most accurate from. Try to design plays that will get them more shots from their hot areas, and have them run drills in practice that will help them improve from the cold zones.
By watching video connected to the shot chart, you can also discern if your player is taking quality shots. Is he rushing his shot from certain areas? Is he taking too many contested looks?
"This situation happened to us last year where one of our shooters was in a slump the first couple of games," Vasquez said. "I pulled up his shot chart and we watched it. We looked at good shots and great shots. Was it a good shot or a great shot? Then we figured out how many times he attacked the basket and got to the free throw line. We just evaluated it to let him know where he stands. They were great shots and they just weren't falling. How can we correct those?"
Sometimes the solution to finding one's shot is simply getting closer to the basket. Great shooters thrive on hitting shots from outside, but getting into the paint can provide a confidence boost if the long ball isn't falling.
Not only will the shooter get some easier looks by coming in close, but he will also have a better shot at drawing fouls near the rim. There are no easier points in the game than free throws, especially for a knockdown shooter.
"We had a player last year that started off like that and struggled from deep," Marcus Bish, the head coach at Southwest High School (Indianola, Neb.), said. "Once he started moving his game inside, his 3-point percentage went way up in the second half of the season."
3. Break Down the Mechanics
This step requires an important balance between fixing flaws and overanalyzing. You want to hit that sweet spot of suggesting minor changes in technique versus getting players to overthink their motion on every shot.
But if a player is struggling to find his groove, it's important to correct any flaws in his form. Go back and look at video from previous seasons to see if there is a hitch in his shot.
The shot chart helps in this area as well. One click will pull up a playlist of all the athlete's shots from that area, so you can see if he's fading away, not setting his feet or rushing his shot. If a particular section of the court is bothersome, put together a plan to work on from that spot in practice.
4. Approach Each Case on an Individual Basis
No two athletes respond to struggles in the same manner. Some will get a mental block that affects their confidence, while others have the self-belief to keep firing, believing they will shoot themselves out of the slump.
Make sure you're approaching the situation on an individual basis. For some players, the answer might be to get in the gym and shoot for an extra 20 minutes each day, ironing out the issues with their shot. But that same strategy might cause another individual to overthink. For that athlete, not mentioning the slump at all might be the best tactic.
"I think it's just kind of feel thing with the kids," Stan Dohm, the head coach at St. James Academy (Lenexa, Kan.), said. "It may be five or ten minutes after practice working with a few extra shooting drills, just reinforcing 'Hey, you're a really good shooter. You just need to hit 75 percent today.' For some kids, it's, 'You're worrying about it way too much. Let's not shoot after practice today and come back fresh tomorrow.' That's one of the intricacies of coaching. You have to get a read for each of your kids."
No one knows your players better than you. Tailor your correction strategy on a personal basis to help pull the player out of his funk.
"Each kid has different personality parameters. Some kids need coaching and some kids need a little more tough love," Dohm said. "I think it's just kind of feel thing with the kids."