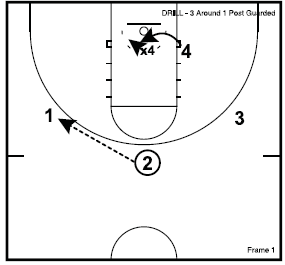 This post player defensive drill is from the Xavier Men's Program Basketball Coaching Newsletter.
You can see the archives of their basketball coaching newsletter at this link: Xavier Newsletter
The second drill is a defensive drill for perimeter players to work on helping or crowding the low post.
3 Around 1 Post Guarded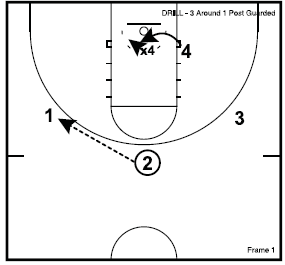 4 tries to get to the opposite block.
X4 hits him to prevent him from getting there.
For the drill, 4 returns to ball side block.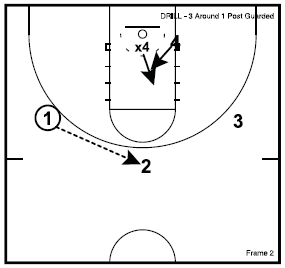 X4 is no on the line, up the line ready in case 4 attempts to duck in.
X4 hits 4 preventing the duck in.
4 returns to the block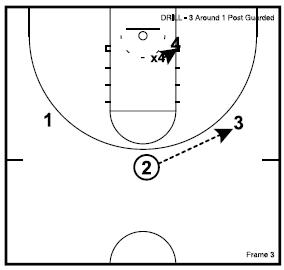 Ball goes to 3, X4 is now 3/4 front in the post.
When the ball goes into 4, x4 pops behind 4 and shows his hands.
Drill is live from this point.
3 Around 1 Post Unguarded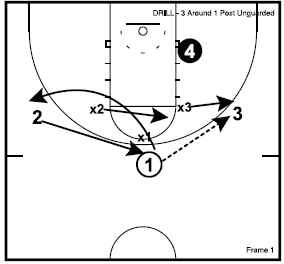 Defenders explode to gap and are active on movement by the offense and on all passes.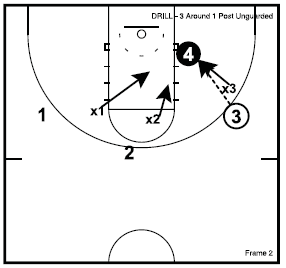 When the basketball is entered into the post, defenders crowd the post.
Drill ends when post player throws out of the post if defenders have great closeouts back to their man or gap.