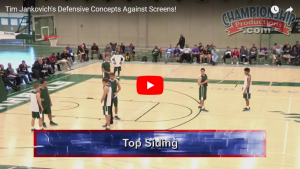 This defense technique for defending a wide pin down screen is with SMU Coach Tim Jankovich.
The video is hosted on You Tube.
You will need to be on a network that allows you to access that site.
The video is two minutes and 33 seconds long. He discusses the position of the ball as to when they deploy this technique.
The video is from the Championship Productions You Tube Channel
If you are interested in learning more about the Championship Productions Basketball Coaching Video (available in both DVD and Instant Video Format) that this drill came from, you can click the following link: Tim Jankovich: Defensive Concepts vs. Man and Zone Offenses
Click the play arrow to view the video.
There is narration with the video, so please make sure that your sound is on.