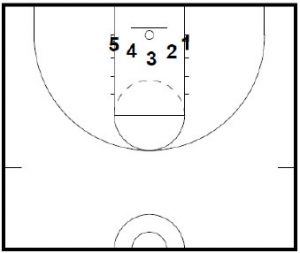 I received these notes from Coach Steve Smiley from a clinic given by Jay Wright. If you would like to download all of the notes, click here: Basketball Workout
At Villanova, spring and summer are committed to individual development.
These are the five areas for individual development: Shooting, passing, dribbling, footwork, defense.
Fall and winter are about team development:
"You have to believe that the work we do with you is going to make you the best player you can be."
45 minutes of technique shooting every morning at 7:00
After a Saturday game, the next day, the 5 guys who played the most do a technique shooting workout. The other 8 players do an off-season skills workout.
Try to get technique as close to perfect as possible
Rhythm
Game Speed
Chart Makes and Misses in live shooting drills
Diagrams created with FastDraw
The closer you are to the rim, the higher you shoot the ball
Get 50 Drill
Set Lifts (form shooting)
Mikan
Reverse Mikan
Bradleys–work around the rim at spots 1-5
(Bradleys are hop jumpers)
Ball over head
Elbows under ball
Lift Ball
The video below shows the "Get 50 Drill"
The clip is from the DVD "Jay Wright: Perfecting Your Team's Basketball Skills" (Click the link for more information)
1-2 steps from 3 point arc
Objective is perfect technique
5 Spot Shooting Drill
Technique Shooting
Focus on 1-2 step with left and right
Wack Out Drill
Coach passes to wing
• Defender closes out
• Offense is low, ready to catch, and shoot
• If the offense cannot get a shot off in rhythm, they fake dribble shoot
• Weak side offense and defense go for rebound
Click the arrow to see the video.
You will be taken to the Coaching Toolbox Shop to see Jay Wright demonstrating how he teaches pivoting on the perimeter.