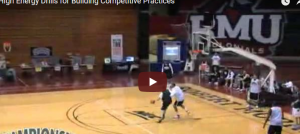 This video is a transition drill used by Bob Hurley. The Coach in the video running the drill is Andy Toole of Robert Morris.
Make sure your sound is on as you watch.
I have tested this video delivery method in this new website platform that I have converted to for several browsers and Operating Systems.
Friar Finish Drill
Click the play arrow to see the video.
You can also click the link to see more information about or to purchase the entire DVD "High Energy Drills for Building Competitive Practices" with Coach Toole Friar Finish Drill