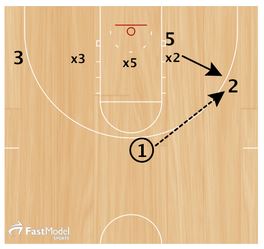 This drill will help you incorporate the skip pass into your zone offense for open threes or post shots.
The idea is to shift the zone with the first skip pass, then skip back over the zone to the original side for an open shot.
Using a good screening angle on the second skip your best shooter can prepare to knock down a big three point basket.
This drill was posted by Coach Randy Brown in Fast Model's library. The library has thousands of diagrams of basketball drills and plays.
We start with an entry pass to 2 on the right wing. Defenders are set up to simulate the defenders in the zone.
X2 take the ball as zone shifts. Ball is skip passed over the top to 3.
The idea is that "one skip deserves another." Once the defense shifts to the first skip the offense sets up for a second skip. 3 catches with eye on rim then dribble up the sideline to set up screening angle on opposite side.
As 3 dribbles up sideline, 5 "screens in" X2 to open 2 in the right corner. Scoring options are; 1. Open three point shot for 2 or 2. Pass from 2 to 5 in the post as he seals X5 as he rotates to him.
Coach Brown also has a free eBook that is a great resource for basketball coaches. Cick here to download a copy:
Coach RB 100 Vital Coaching Questions and Answers
He also tweets a lot of his content. You can follow him here: @CoachRB