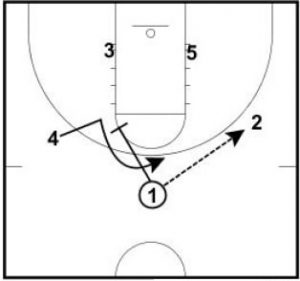 This play was sent to me by Coach Brandon Rosenthal.
Coach Rosenthal is currently serving as the assistant basketball coach in charge of video coordination for both the men's and women's basketball programs at Santa Clara University.
Prior to moving to Santa Clara, Brandon was an assistant coach at St. Edward's University in Austin, Texas.
The play came from the University of Texas.
(1) passes to (2) and screens away for (4).
(3) sets his man up and receives a down screen from (1).
(2) hits (4).
(3) uses the down screen from (1) and then receives the ball from (4).
(4) follows the pass with a sprint screen.
(1) spaces and (5) works for post position.
(3) uses the ball screens and attacks the T, ready to read the defense.
Note: 5 should be shaping up on the block. The diagram is not intended to have the 5 player moving up and getting in the way of 3.
I have posted several other diagrammed plays, animated basketball plays, and videos of basketball plays to run against man to man defense.