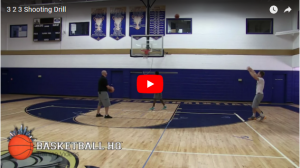 This competitive shooting drill is among the thousands of resources for both coaches and player available from basketballhq.
They have several more videos as well as basketball coaching resource articles.
This drill is coached by Ryan Panone.
I encourage you to think about the best way to tweak the drill before using it so that it will offer the most benefit for your players.
Even as you are first implementing it, you may need to continue the adaptation process of making some adjustments so that the drill contributes to the improvement of your players.
Make sure that your speakers are on to hear the narration and that you can access YouTube to see the video.
Click the play arrow to begin each video.
3 2 3 Competitive Shooting Drill