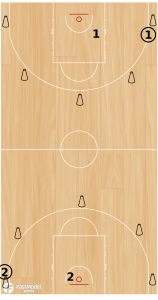 This drill was contributed by Fabian McKenzie to the FastModel Sports Basketball Plays and Drills Library.
Coach McKenzie has been a head coach at the university level for 17 years, and has been involved as a coach at this level for 20 years.
He has been involved with the Canadian Women's National team program for the past 9 years.
You can also find out more about FastModel Play Diagramming software by clicking this link: FastDraw
These are Coach McKenzie's comments on the drill:
This is a fun & competitive drill which adds pressure to shot taking and making.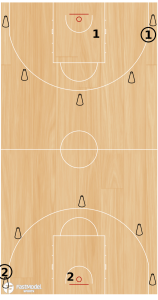 You can do this with groups of 2 or 3 people
5 spots are marked.
You could use different spots or reduce the number of spots
Each player in the group must hit 2 in a row from the spot before the group is allowed to move to the next spot.
The first group to finish all 5 spots and get to the center circle wins.