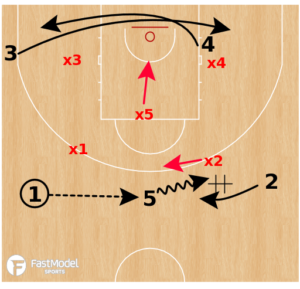 These two plays to run against a 2-3 zone came from the following pages of the FastModel Sports Plays and Drills Library:
Team USA – PNR Twist vs Zone – FastModel Sports.
Swing DHO Floppy vs Zone – FastModel Sports.
You can also find out more about FastModel Play Diagramming software by clicking this link: FastDraw
The plays were contributed by Matt Wheeler, Olympia High School (Orlando, FL).
Here are Coach Wheeler's comments on the play:
Team USA used multiple strategies to try to combat the zone defense that Turkey played throughout most of their World Cup game. In this play the two ball screens resulted in Kemba Walker (1) being matched up against a post player in the middle of Turkey's zone. On the first ball screen from 4, x1 fought through the screen to get back matched up with 1. 4 cut to the wing to occupy x2 and keep him from providing help on the second screen. When 1 dribbled off the screen from 5 to the middle of the floor, he was able to attack x5 one on one fand use his quickness advantage to get a basket.
1 dribbles off the ball screen from 4.
4 cuts to the opposite wing to occupy x2.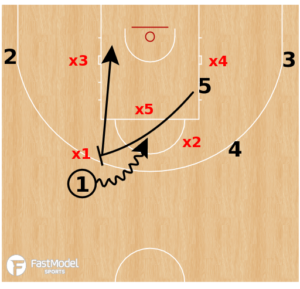 5 sprints into a ball screen with 1.
1 attacks x5 as 5 rolls to the basket.
Swing DHO Floppy
Team USA basketball faced a zone defense for much of their game against Turkey in the FIBA World Cup. They were down 1 late in overtime and ran this play to get a shot for Joe Harris (3) off of some movement. This is a common play that Gregg Popovich uses with the Spurs against man defense. They made some adjustments to run this as an effective play against Turkey's 2-3 zone defense.
1 reversed the ball to 5. Then 5 went into a dribble handoff with 2. but didn't need to set a good screen on x2. This allowed x2 to get through the screen and shift out of the wing area to matchup with 2 up top. 5 then screened x4 on the outside of the zone to get 3 open. This essentially forced Turkey to matchup man to man with x4 having to guard 3. x4 trailed on the screen and 3 was able to turn the corner on the catch and drive to the basket.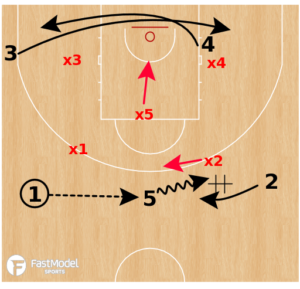 1 passes to 5.
5 dribble handoffs with 2.
4 & 3 cross under the rim.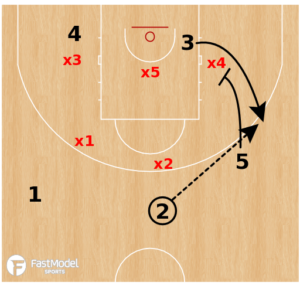 2 dribbles to the top to occupy x2.
5 screens the outside of the zone (x4) to get 3 open for a shot.