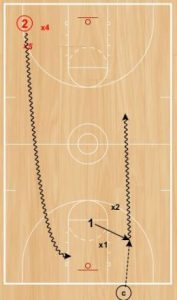 Brian Williams, The Coaching Toolbox.
I have always felt that one of the best ways to evaluate ball handling is by having our perimeter players dribble against two defenders in practice.
I also think that it is important that if you use the 1 vs. 2 drill in practice that you emphasize that it is an overload drill for practice only. Every other time you are double teamed while dribbling , you don't dribble against it, you look for an open players to pass to.
I developed a scoring system to make the drill competitive and I based it on what I value as the outcome for the offensive player. You might not agree with the scoring system because you might have a different philosophy of what you want the dribbler to do.
You can start the drill 2 different ways. If you want your players to work on getting open against a full court press and not catching the ball in a trap zone, you can begin the drill like the black players, offense 1 and X1 and X2.
The coach inbounds the basketball and the offensive player works to get open against X1.
If you want to put your player in a tough position and force them to get out of it, start them where the red players are O2 and X4 and X5.
Both groups from the diagram do not go at the same time, it is there to illustrate two ways to start the drill.
Once the drill starts, the dribblers will go towards the opposite opposite basket from the end where they start, so it is a full court dribbling drill. If the defense steals the ball, they will attack the basket opposite from where the offense is looking to score.
Each possession lasts 20 seconds unless the ball handler loses the basketball.
You can allow the dribbler only half the floor or allow them to use the whole court. If you use the whole court, only have 1 group of 3 going at once. If you allow the to use only 1 side, you can have groups going both ways.
Here is what I think the best outcomes are for the dribbler: (5 being best outcome)
(5) Scores or is fouled shooting. For this drill, I don't make a distinction between making a 2 point shot and making a 3 point shot, and we don't shoot free throws. You can decide how to deal with non-shooting fouls. We handle them as no harm, no foul. I want the dribbler to be tough and not use contact as an excuse to lose the basketball.
(3) Retains dribble for the entire possession without losing the basketball and not picking it up.
(2) Picks up the dribble and can pivot without losing the ball. We don't call 5 seconds since there are no other players to pass to. You could have a coach or another player be an outlet if you don't like the idea of pivoting for more than 5 seconds.
(1) Commits a dead ball turnover (travel, offensive foul, 10 second violation, tied up by the defense, steps out of bounds, etc..) I would rather have a dead ball turnover than a live ball turnover because it allows us to set our defense.
(0) Misses a shot or commits a live ball turnover (loses dribble or is stripped while pivoting).
In order to motivate the defense to play hard, they can score if they make a steal. But it must be in transition. If they make a steal, they must go immediately and score in a 2 on 1 or 1 on 0. I don't want them pulling it out. When we get a 2 on 1 in a game, I want to execution before more defenders retreat.
If the defense steals the ball and then scores or is fouled, both players get two points, even for a 3 point shot. I would rather they attack the basket on a 2 on 1 situation.
Again, these are the scoring rules that fit our system. Change your rules to fit your team.
Players compete in groups of 3 and rotate so that each player goes the same number of times on offense. Two or Three times is a good amount to have each one go. Once one possession is over, start on the opposite baseline and go full court the other way with a new dribbler.
I like to set the maximum length of a possession at 20 seconds, so we start the clock at 20 seconds when the player makes the first dribble.