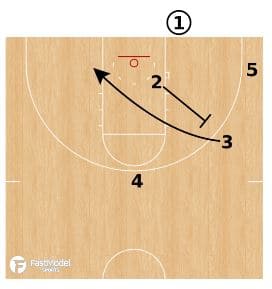 This underneath the basket inbounds play was run contributed by Andreas Barthel to the FastModel Sports Basketball Plays and Drills Library.
You can also find out more about FastModel Play Diagramming software by clicking this link: FastDraw
Coach Barthel Saw Texas Southern run this set. The best shooter on the team sets multiple screens before receiving one to get open behind the 3-point arc.
2 sets a back screen for 3
3 cuts to the basket
2 & 5 set a staggered screen for 4
4 curls to the basket
5 sets a screen for 2
2 cuts to the corner
5 slips to the basket