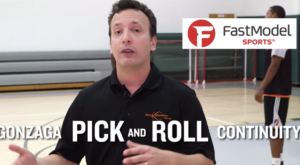 This video is presented by Coach Nick at BballBreakdown.
He has over 4500 other videos available on the BballBreakdown You Tube channel.
I have been asked about this basic pick and roll continuity offense a few times.
I am not implying that it is the only thing that Gonzaga runs. I am not implying that it is the reason that they are in the final game of the tournament.
I am offering it so that maybe you can find a piece or an idea from it that you might be able to apply to your offense.
This is a You Tube video, so please make sure that your sound is on.
You will need to be on a network that allows you to access You Tube to view the video.
Press the play arrow
You can also see the offense diagrammed by Coach Randy Sherman by clicking here to visit FastModel Sports Playbank