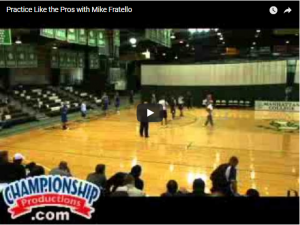 In my opinion, converting to defense is one of the key factors to being good defensively. Our goal every time we convert to defense is to force the opponent to play against our set 5 on 5 defense without fouling to do so.
Depending on the level you coach, you will be converting to defense 40 – 60 times per game on average, so it is essential to practice it regularly.
We practice converting off of made and missed shots, off turnovers, and off of made and missed free throws. We use the "change" drill to simulate a turnover. (Coach yells change, offense drops balls and converts to defense, team on defense picks up the ball as if transitioning after a steal.)
Today's post is a video of another converion drill used by former NBA Coach Mike Fratello to cover his defensive conversion fundamentals and assignments. It is not a fancy drill, but it is effective.
The video is a You Tube video, so make sure that you can access You Tube.
Make sure your sound is on as you watch.
If you are interested in purchasing this or any other Championship DVD, you can use this link:

Mike Fratello Conversion Drill
The video is 90 seconds long–Make sure your sound is on.
Below are some links to other individual and team defensive drills that are posted on the Coaching Toolbox: