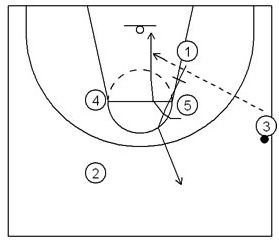 This inbounds play is run from a sideline situation.
From Coach Creighton Burns' newsletters. If you are interested in receiving his newsletter, contact us and I will put you in touch with Coach Burns.
There are two opportunities for a backscreen lob to the basket and the play finishes with a post
#1 back screens for #5 and #5 rolls and goes to the basket looking for a lob pass from #3.
After setting the screen , #1 steps out to receive a pass.
On the pass to #1 , #4 wil l set a back screen for #2.
If #2 is open , #1 can throw over the top to him.
If #2 is not open , #1 wil l make a pass to #4, and then cut to the opposite side of the court.
#3 gets #2 the ball , and #2 wil l try to feed #5 in the low post.